The two common foundation types for homes in Texas are: pier and beam or concrete slab. There are distinct advantages to both types of foundation. It's important to understand the type of foundation that your home has so that it can be properly maintained and repaired.
What is a Pier and Beam Foundation?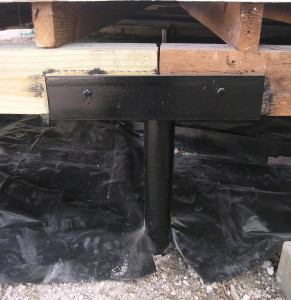 Homes with pier and beam foundations have a system of wood, concrete or steel piers dug into the earth that support a framework of wooden or steel beams that in turn support the structure of the house.
Unlike slab foundations that completely fill up the space below the house, pier and beam houses have a space, usually of at least 18 inches, between the ground and the house called a 'crawl space.' If plumbing problems arise, having a crawl space under the house allows for easier repairs of pipes with less damage and disruption to your home.
Pier and Beam Foundation Issues
Well-crafted pier and beam foundations tend to have fewer overall issues and less expensive repairs than other foundations. However, there are certain issues that affect pier and beam foundations that home owners should be aware of so that they can be repaired quickly.
Moisture: If there is insufficient drainage under the house, water can accumulate after heavy rains and cause mold or sinking.
Rotting wood: compromised wood pieces need to be replaced
Sagging: If the beams were not properly spaced during construction, the weight of the house becomes too heavy and leads to sagging.
If you notice sagging floors, gaps between the floor and interior walls, cracks in the drywall, or unleveled door frames, it is important to have a pier and beam foundation expert out to inspect your home and discuss your repair options.
Pier and Beam Foundation Repair Experts
At Quality Foundation Repair, we specialize in inspecting and repairing pier and beam foundations. Our experienced and knowledgeable staff will review your foundation, look for issues, and offer you a free repair estimate. Don't let pier and beam repair issues turn into costly damage to your home or property, let the experts at Quality Foundation Repair help you have the best possible foundation for your home.
For inspection and repairs of your pier and beam foundation in Austin, call Quality Foundation Repair. 512-363-7769